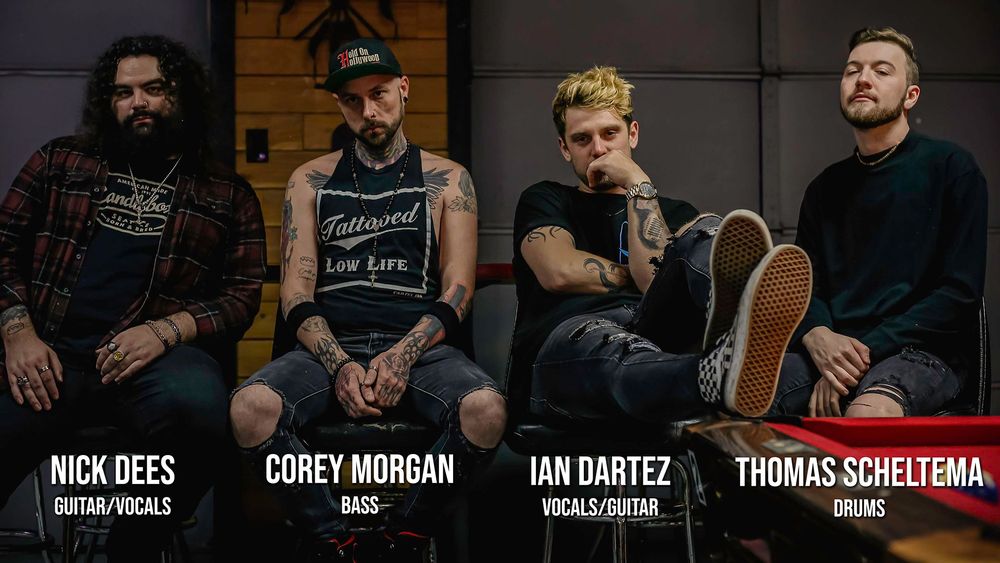 HOLD ON HOLLYWOOD is a Houston based rock band that has taken the region by storm since debuting in April 2015. The band's sound combines powerful vocals, massive guitars, unforgettable melodies, relatable lyrics, and infectious pop hooks that will have you singing along before the first chorus ends. HOLD ON HOLLYWOOD has released two EP's, their debut "Save Me" in 2016, produced by Grammy Nominated Producer STEPHEN BOGLE and it's follow up "Love Stories" in 2020, produced by MATT NOVESKEY of BLUE OCTOBER.
2018 saw HOLD ON HOLLYWOOD landing the opportunity of a lifetime, when they opened for BON JOVI on their "This House Is Not For Sale" tour date at Houston's Toyota Center (18,300 capacity). In the Summer of that same year, the band's debut single "The Chase" received heavy airplay on one of the country's biggest alternative rock stations, 94.5 THE BUZZ, with the station listing it as one of the "Top 94 Songs of 2018" in their year-end countdown. HOLD ON HOLLYWOOD has been nominated for and won numerous awards, including:
- 2019 H-Town Music Awards "Rock Artist of the Year" (WON)
- 2019 H-Town Music Awards "Entertainer of the Year" (NOMINATED)
- 2019 H-Town Music Awards "Music Video of the Year" (NOMINATED)
- 2021 Support Local Music Awards "Best Live Performance" (WON)
The single "Movies" off of the band's sophomore EP "Love Stories" peaked at #24 on the BILLBOARD MAINSTREAM ROCK chart in November 2020. Lead guitarist/songwriter NICK DEES co-hosted the LA LLOYD ROCK 30 COUNTDOWN in January 2021, a nationally syndicated radio show which airs weekly on more than 35 stations around the country. HOLD ON HOLLYWOOD toured the US in 2022, including direct support to CANDLEBOX on a large portion of their "Wolves 2022" Tour. The band's latest single "Spell" was added into rotation on 94.5 THE BUZZ on December 1, 2022. This is HOLD ON HOLLYWOOD's fourth single in a row, and fifth song overall, to spin on FM Radio. "Spell" was released on digital platforms on December 2, 2022. 
HOLD ON HOLLYWOOD has performed/toured with some of the biggest names in rock, including:
BON JOVI | BLUE OCTOBER | AWOLNATION | A PERFECT CIRCLE | CHEVELLE | THE DIRTY HEADS | MIKE SHINODA (LINKIN PARK) | SCOTT STAPP (CREED) | PUDDLE OF MUDD | CANDLEBOX | HINDER | THE STRUTS | THE NIXONS | BADFLOWER | THEORY OF A DEADMAN | BUCKCHERRY | STEEL PANTHER | DROWNING POOL | SAVING ABEL | FRAMING HANLEY | RED SUN RISING | GEMINI SYNDROME | BLACK TIDE | BURN HALO | ROBERT DELONG | GRANDSON | BLACKTOP MOJO | THE BUNNY THE BEAR